Description
Bridge Technologies Widglets:tm: API for the VB440
16 Uncompressed Video over IP & VB440 Probe
Bridgetech's Online Training Course. Session 11: VBC Setup Strategies
Bridgetech's Online Training Course. Session 12: VBC Alarms
Bridgetech's Online Training Course. Session 11: VBC Setup Strategies
IP packet behaviour analytics is an essential real-time need when dealing with the modern infrastructures capable of transporting uncompressed ST2110 video and audio. With a production environment dominated by operations personnel and non-movable deadlines, enabling the total understanding of advanced connectivity with the use of advanced paradigms recognised by staff to give accurate and meaningful information on par with an audio meter or a waveform/vector-scope, utilized by the industry since the beginning of broadcast.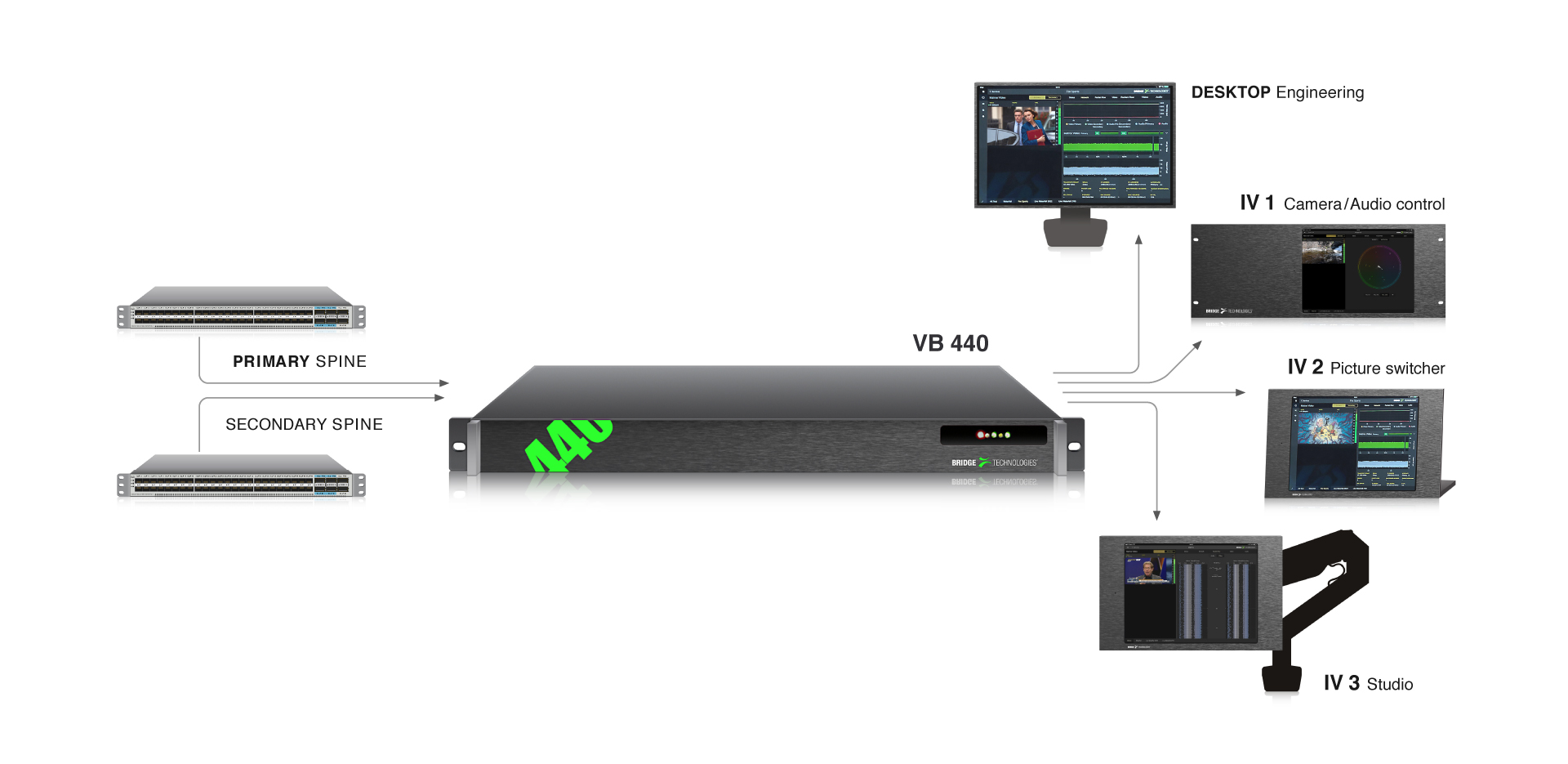 With support for interface speeds from 10, 25, 40, 50 and up to 100 Gigabit on dual interfaces, even the largest of media networks can be accommodated with analysis of SD, HD, HD HDR, 4K, 4K HDR and 8K. ST2022-7 redundancy is also monitored and analysed when connected to both primary and secondary networks. PTP is provided with ST2059-2 clock analysis, clock source detection/listing and clock accuracy and class, providing troubleshooting and continuous monitoring of this critical infrastructure in a production network – including accurate path-delay for individual flows.
The VB440 can accommodate eight simultaneous users, from local or remote locations over secure https. It features a user interface provided by an HTML-5 standard web browser, and can be provided with Instrument View aluminium kits in broadcast form factors that enable touch screen operation. This gives production teams access to an analytics solution for large numbers of streams and multiple resolutions in real-time and in parallel in multiple locations.
The VB440´s intuitive packet displays together with the MediaWidow™, provides insight into behaviourism unprecedented by other standard tools, instilling confidence in production crews exposed to modern IP infrastructures. Analytics providing single or multiple stream correlation will immediately reveal any potential critical factor of the transport with intuitive tools and displays. Errors, however minuscule, are displayed and severity can be easily judged by any operator. Media metadata and deep packet analytics data is also available when vendor interoperability and signalling integrity have to be established.
Also built in is traditional colorimetry, with a full vector-scope consisting of Rec.601, 709 and 2020 compatibility, thus ensuring colour saturation issues that can arise in a mixed standard and HDR (High Dynamic Range) environment. Also, the system provides audio metering and audio listening for 8 stereo pairs following the picture.
Any flow, or signal, on the network can be selected in the ´flow overview´ or services can be manually bonded into full services consisting of video, audio and ancillary data for easy selection in the ´service selection view´, or the fast access buttons in the lower edge of the gui. Great care has gone into making sure fast access to source selection, and keeping the context of the task, while viewing different signals.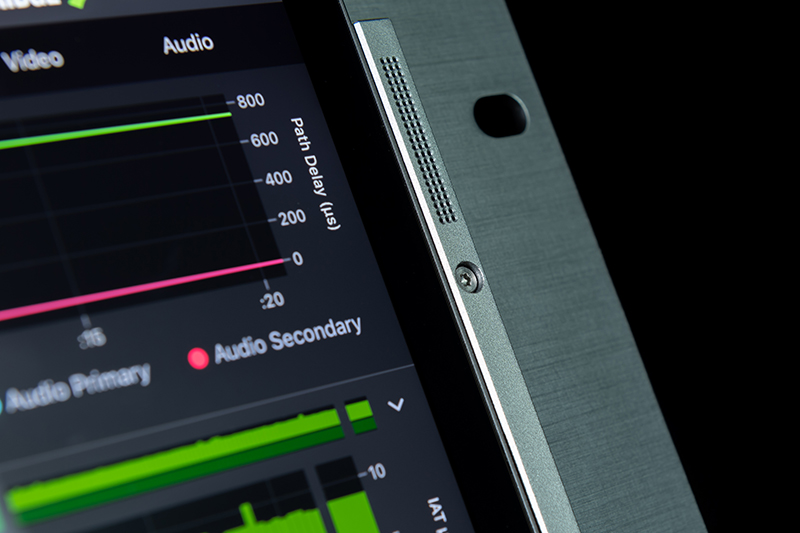 Instrument View Engine
The Instrument View Engine (IV), provides deep analytics displays for the VB440 Appliance. The separately designed Instrument View kits use the state-of-the-art Apple iPad Pro (11 inch), to enable the most responsive, powerful and colour accurate touch panel possible. Together with the Instrument View aluminium kit´s, advanced analytics capability and usage becomes unprecedented easy to use and can fit into any type of production environment. Simply purchase the iPad Pro and an Instrument View kit that fits your space requirements, assemble it, and off you go. See the Technical features tab for more details.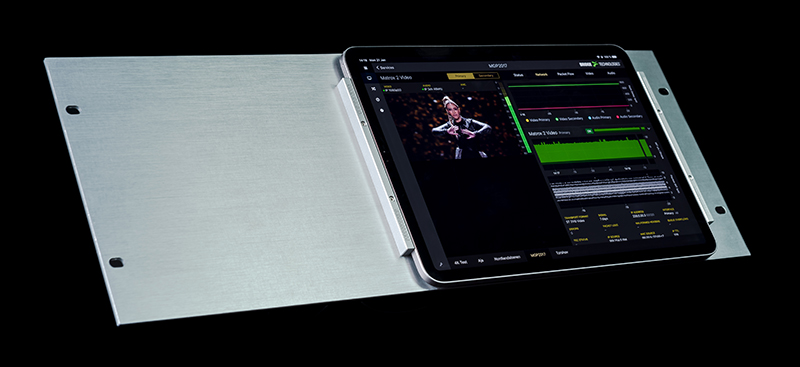 Widglets™ API – HTML5 video monitor
The technology is a Widglets™ API HTML5 video monitor for the VB440, that allows the probe to become truly multifunctional beyond its current widespread deployment for monitoring IP networks, extending its usefulness well beyond test and measurement. By leveraging the Widglets API, users can, for example, now deliver a full-motion, colour-accurate and ultra-low latency video monitoring capability to any location or any application where it is needed: all that is required is a laptop and a network connection. Take a camera painter, for instance. Today, the number of cameras that can be analysed is typically restricted to a very few at a time – and with limited views available. More can be analysed – but with the need to acquire and deploy multiple space-consuming boxes. With the Widglets API, a user can have multiple cameras with multiple waveform vectorscopes and streams via a single HTML5 video monitor view; different people in different places can view all this data, instead of splitting it by location or technician.  As such: using the new Widglets API for the VB440 patently has incredibly positive implications for remote production.